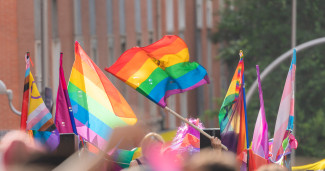 June is Pride Month, and we have a great reading list for you to celebrate. Check out the books below to learn more about important LGBTQ+ issues.

LGBTQ Health Research
Theory, Methods, Practice
Edited by Ron Stall, PhD, MPH, Brian Dodge, PhD, José A. Bauermeister, PhD, MPH, Tonia Poteat, PhD, MPH, And Chris Beyrer, MD, MPH
The first book focused entirely on the growing field of LGBTQ health research, this volume provides the necessary public health tools to teach about and study LGBTQ populations effectively.

The Conversation on Gender Diversity
Edited by Jules Gill-Peterson
From contributors to The Conversation, a look at gender diversity in the twenty-first century and the intricate and intersecting challenges faced by trans and nonbinary people. 

LGBTQ Leadership in Higher Education
Edited by Raymond E. Crossman
Why does queer leadership matter?  In this book, the first of its kind, 15 LGBTQ presidents and chancellors in higher education provide insight into their experiences and highlight the importance of queer leadership for the academy and the world. 

Before Queer Theory
Victorian Aestheticism and the Self
Dustin Friedman
A reimagining of how the aesthetic movement of the Victorian era ushered in modern queer theory. 
Login to View & Leave Comments
Login to View & Leave Comments