Hopkins Press Welcomes Seven New Journals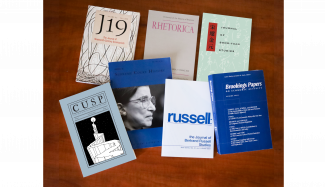 Hopkins Press is pleased to announce the addition of seven distinguished titles to its scholarly publishing roster. The addition of Brookings Papers on Economic Activity, World Politics: A Quarterly Journal of International Relations, J19: The Journal of Nineteenth Century Americanists, Journal of Song-Yuan Studies, Journal of Supreme Court History, Rhetorica: A Journal of the History of Rhetoric, and Russell: the Journal of Bertrand Russell Studies brings to the total collection of journals published by Hopkins Press to 108.
"It's been an exciting year for the Hopkins Press Journals Program," notes William Breichner, Journals Publisher. "The diversity of our new titles demonstrates the breadth of our collection, adding to already strong lists in Asian studies and literature, and expanding into the areas of economics and judicial history. We look forward to a long and successful partnership with these already highly regarded publications."
Login to View & Leave Comments
Login to View & Leave Comments