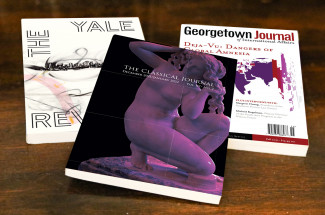 Georgia L. Irby / Editor 

The Classical Journal is the official publication of the Classical Association of the Middle West and South (CAMWS). Established in 1905, the quarterly, peer-reviewed Classical Journal features scholarly articles on the literature, culture, and history of Graeco-Roman antiquity. CJ also includes select book reviews and a Forum of shorter notes on pedagogical methodologies, technologies, and theory at all levels of classical education.
Kiernan Christ, Serena Liu, Max Levine, And Irmak Sensöz / Editors
The Georgetown Journal of International Affairs (GJIA) is the official publication of the Edmund A. Walsh School of Foreign Service at Georgetown University. The GJIA is committed to cultivating a dialogue accessible to readers with all levels of knowledge about foreign affairs and international politics by providing a diverse array of timely, peer-reviewed content penned by top policymakers, business leaders, and academic luminaries.
Meghan O'Rourke / Editor
The Yale Review, founded in 1819, is the oldest literary quarterly in the United States. It publishes new works by the most distinguished contemporary writers, explores the broader movements in American thought, science, and culture, and reviews the best new books in a variety of fields.