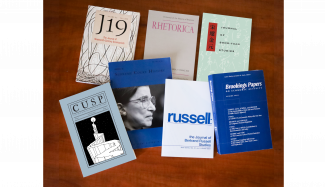 Janice Eberly, Northwestern University and James H. Stock, Harvard University / Editors 
The Brookings Papers on Economic Activity (BPEA) is a semi-annual academic conference and journal that pairs rigorous research with real-time policy analysis to address the most urgent economic challenges of the day. Working drafts of the papers are presented and discussed at the conference typically held twice each year in spring and fall. The final papers and discussion comments are subsequently published with writeups of general discussions from each conference in the journal.
Kate Hext, University of Exeter, Kristin Mahoney, Michigan State University, and Alex Murray, Queen's University, Belfast / Editors 

Cusp: Late 19th-/Early 20th-Century Cultures is a new home for field-defining scholarship on the works, authors, artists, problems, and phenomena that defined the dynamic period from the late 19th century to the early 20th century. Cusp encourages interdisciplinary scholarship, including (but not limited to) work on literature, the visual arts and cinema, theatre studies, intellectual history, publishing, periodical studies, and music. All movements and genres will feature in the articles and reviews on its pages, from detective fiction to journalism, aestheticism to anarchism, realism to Vorticism. Our journal welcomes new perspectives on canonical authors, artists, and events of the period, as well as hitherto marginalized voices. We also intend to center a more global or transnational approach to the period. Contributions that explore literature and culture from across the globe, from Great Britain, Ireland, and North America to Europe, the Middle East, South America, Africa, and Australasia, will be an essential element in the journal's contents.
Sarah Chinn, Hunter College and Brigitte Fielder, University of Wisconsin-Madison / Editors

J19 is the official publication of C19: The Society of Nineteenth-Century Americanists. Published twice annually, the journal will be dedicated to publishing innovative research on and analysis of the "long nineteenth century" (1783-1914).
Grigore Pop-Eleches  / Editorial Chair  

Founded in 1948, World Politics is an internationally renowned quarterly journal of political science produced under the editorial sponsorship of the Princeton Institute for International and Regional Studies at Princeton University. World Politics publishes analytical and theoretical articles, review articles, and research notes in international relations, comparative politics, political theory, foreign policy, and modernization. It does not publish strictly historical material, articles on current affairs, policy pieces, or narratives of a journalistic nature.