When Do University Presses #SpeakUP?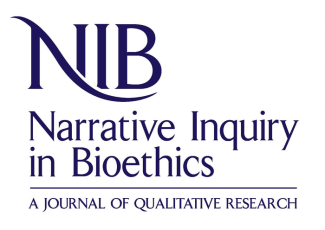 As I write this, several armed conflicts are raging across the globe, including in Ukraine, Gaza, and Sudan. The journal Narrative Inquiry in Bioethics (NIB) has recently published a series of stories by physicians, therapists, lab workers, health researchers, and more who have worked—or are working—to help the sick and injured receive healthcare during armed conflicts. Common themes in the stories include fearing for the safety of patients, self, and others; coping with an extreme lack of essential resources; and deliberating about when to flee an area versus stay and serve. I share a few excerpts from these compelling stories below. 
"My story begins at 5 a.m. on February 24, 2022. A terrible morning found me on duty in a hospital near Kharkov—the sounds of explosions, shock waves, and the smell of burning. My thoughts turned into a swarm of bees. This is a war," writes Artem Riga. "I was the only surgeon on duty. I was stunned by the children's injuries and damaged faces. There was fear and alertness that the shelling of the hospital would begin. I was in fear for my life and for my patients and loved ones."
While working as an emergency medical technician, Zohar Lederman was called to the scene of a terrorist attack in Israel where a very young baby—along with the rest of the family—was shot. The baby did not respond to life-saving efforts, and Lederman drove the tiny body to the morgue. "There is something wrong in a world where this kind of thing happens. I promised the baby that I would fix it. I have not fixed it. But I have been trying." Lederman now works as an emergency medicine physician and bioethicist. 
Kachkovska, Dudchenko, Kovchun & Prystupa, co-authored a story that shares how Ukrainians with chronic health conditions continue to need their medications and treatment despite war. "After covering the basic needs of our families, we spend our money on drugs and supplies for patients. Some have medically complex conditions, and we prioritize them and their needs."
Yuliya Nogovitsyna, the director for Ukraine's largest childhood cancer NGO, describes working day and night to bring critically ill children to safety and treatment in Poland. "We slept 4-5 hours per day. Within two weeks, my hands and legs were trembling from constant tension, concentration, and tiredness." Still, Nogovitsyna worries that by evacuating these patients to European hospitals, the Ukrainian childhood cancer care system will collapse, and future pediatric cancer patients won't have access to the care they require. "It's very uncomfortable to confront such questions. We left pediatric oncology units empty, without work for Ukrainian pediatric oncologists. A healthcare system without patients is like a cardiovascular system without blood."
Many of the authors express hope, despite their fear and fatigue. "All we want is true democracy," writes One Exiled Doctor—an author who writes anonymously. "The right to health, and for our people to live peacefully. Yes, we are exhausted and broken, but we will end this together to bring a beautiful new day for the people of Burma."
Ola Ziara, with writing support from colleague Rachel Coghlan, submitted her story in July 2023. The story describes Ziara's experiences from 2014 onward, from her time providing pediatric care during war and through ordinary days living in Gaza. "Living here and working here as a doctor brings physical and mental burdens. The crushing exhaustion, the personal risks, the harrowing choices, the helplessness, the guilt, the unworthiness, the terror of seeing death and becoming dead." When the conflict between Hamas and Israel started again in October 2023, Ziara added a postscript to her story. "This was all before. As doctors in Gaza now, we weep an unbearable grief. We no longer know if we can keep caring." 
The full NIB issue will be released this winter, with commentaries written by experts in armed conflict and forced displacement, political science, military medical ethics, and the moral dilemmas of modern war. With the ongoing conflict in Ukraine and other regions, and renewed fighting in Gaza, JHUP was amenable to publishing the stories early, online, ahead of print. By doing so, readers can get a glimpse into the lives and experiences of these heroes now, as many of the conflicts featured in the narratives rage on. The stories are available open access through November. Read them here.  
Login to View & Leave Comments
Login to View & Leave Comments