Reproductive Rights and Healthcare : A Reading List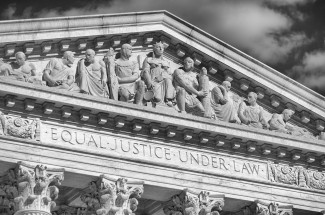 Last month's ruling by the U.S. Supreme Court in Dobbs v. Jackson Women's Health Organization walked back longstanding legal precedents that affirm the constitutional right to an abortion. 
Abortion is now illegal in thirteen states that had what are known as "trigger" laws, laws that immediately went into effect after Roe v. Wade was overturned. Thirteen additional states are expected to follow suit. 
Hopkins Press encourages a look at these books and papers for a deeper understanding of the context of the current situation and its complex history. All journal articles below are freely available for the next month.
Journal Articles
Insurance Churn and Inconsistent Access to Reproductive Health Care among Abortion Patients in Mississippi
Margaret A. Williams, et al.
Journal of Health Care for the Poor and Underserved, vol. 32 no. 4, 2021
Abortion Services in Humanitarian Contexts 
Michelle R. Kaufman, et al.
Journal of Health Care for the Poor and Underserved, vol. 31 no. 4, 2020
Does Medicaid Coverage Matter?:  A Qualitative Multi-State Study of Abortion Affordability for Low-income Women
Amanda Dennis, et al.
Journal of Health Care for the Poor and Underserved, vol. 25 no. 4, 2014
Access to Abortion Services: A Neglected Health Disparity
Christine Dehlendorf and Tracy Weitz.
Journal of Health Care for the Poor and Underserved, vol. 22 no. 2, 2011
Human Rights Dynamics of Abortion Law Reform
Rebecca J. Cook and Bernard M. Dickens
Human Rights Quarterly, vol. 25 no. 1, 2003
Additionally, the Editors of Journal of Women's History have made the following articles freely available for the next two months:

"A Tacit Pact with the State": Constrained Choice and the Politics of Abortion in 1930s Mexico
Elizabeth O'Brien
Journal of Women's History, vol. 34 no. 2, 2022
Feminism, Human Rights, and Abortion Debates in Mexico
Jennifer Nelson
Journal of Women's History, vol. 34 no. 2, 2022
Women's Rights Advocates and Abortion Laws
Faye E. Dudden
Journal of Women's History, vol. 31 no. 3, 2019
Kitchens and Kettles: Domestic Spaces, Ordinary Things, and Female Networks in Irish Abortion History, 1922–1949
Cara Delay
Journal of Women's History, vol. 30 no. 4, 2018
"How Come There's Only Men Up There?": Catholic Women's Grassroots Anti-Abortion Activism
Karissa Haugeberg
Journal of Women's History, vol. 27 no. 4, 2015

"Not to Rely Completely on the Courts: Florynce "Flo" Kennedy and Black Feminist Leadership in the Reproductive Rights Battle, 1969–1971 
Sherie M. Randolph
Journal of Women's History, vol. 27 no. 1, 2015

"Abortion Will Deprive You of Happiness!": Soviet Reproductive Politics in the Post-Stalin Era
Amy E. Randall
Journal of Women's History, vol. 23 no. 3, 2011
Special Issue: Reproduction, Sex, and Power
Journal of Women's History, Volume 22, Number 3, Fall 2010
Beyond "Choice": Roe v. Wade as U.S. Constitutional History
Lynne Curry
Journal of Women's History, vol. 22 no. 2, 2010
Abortion by Assault: Violence against Pregnant Women in Thirteenth-and Fourteenth-Century England
Sara M. Butler
Journal of Women's History, vol. 17 no. 4, 2005
"Abortions under Community Control": Feminism, Nationalism, and the Politics of Reproduction among New York City's Young Lords
Jennifer Nelson
Journal of Women's History, vol. 13 no. 1, 2001
Violent and Violated Women: Justice and Gender in Rural Guatemala, 1936-1956 
Cindy Forster
Journal of Women's History, vol. 11 no. 3, 1999
Two Steps Back: Poland's New Abortion Law
Wanda Nowicka
Journal of Women's History, vol. 5 no. 3, 1994
Login to View & Leave Comments
Login to View & Leave Comments