A Q&A with Andrew M. Wehrman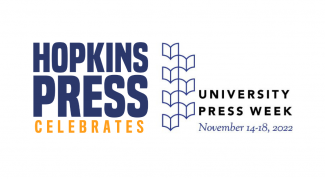 Continuing our University Press Week blog tour, today we're spotlighting historian Andrew M. Wehrman, whose timely book The Contagion of Liberty: The Politics of Smallpox in the American Revolution comes out on December 6, 2022. We spoke with Wehrman about his research, its resonances with the COVID-19 era, and his experience publishing his first book.
Tell us about your book!
Ordinary American colonists in 1776 were more afraid of smallpox than they were of paying an extra tax on tea. My book The Contagion of Liberty describes how Americans rallied, sometimes violently, for public solutions like quarantines and general inoculations for smallpox during and after the American Revolution. My book begins with the origins of smallpox inoculation in America, which was first described by an enslaved African man in Boston, and describes how it became the most sought-after medical procedure of the 18th century. George Washington's order to inoculate the Continental Army in 1777 came only after Americans from across the Colonies demanded equal access. The miraculous discovery of vaccination at the end of the 18th century, however, was usually promoted as a private decision rather than as a public remedy. Altogether, my book offers a thought-provoking new dimension to our understanding of both the American Revolution and the origins of public health in the United States.
What inspired you to write The Contagion of Liberty?
I was very interested in how individuals within tight-knit communities navigated the American Revolution. One of my favorite books is Robert A. Gross's The Minutemen and Their World about how the people of Concord, Massachusetts, lived their lives and experienced the Revolution. While researching ordinary peoples' lives during the Revolution, smallpox kept showing up, and I realized that people's concerns over smallpox and their growing insistence on being inoculated was not a separate issue from the Revolution. While I did that research well before the COVID-19 pandemic began, revising the book during the pandemic only further convinced me of its significance. Seeing the first COVID vaccines going into arms in 2021 was a great inspiration as I finished writing the book.
What was the most fun part of writing and publishing it? 
Every little milestone—each small advance to the finish line—brought its own bit of excitement. I think that receiving positive and thoughtful feedback from the anonymous peer reviewers and most of all from Elizabeth Fenn (who opted not to remain anonymous) were the most validating. The most fun stuff, though, was seeing the cover and, of course, the book itself for the first time.|
 
Was there any part of the publishing process that surprised you?
There were a lot of surprises in store, I think, for everyone involved. I have not yet met anyone from Johns Hopkins University Press in person. My editor Matt McAdam and I did all our discussions over Zoom and email. I'm grateful to the whole staff who figured out how to continue this important work while, for the most part, working from home during the pandemic until the last several months.
Is there any advice you'd share with future authors about publishing with a university press?
I wish I would have talked to university press acquisitions editors earlier in the process of writing. I think it's important to understand how the university press potentially sees your book fitting in with their list and catalog early on when thinking about how to transition from a dissertation to a book. For me, Hopkins Press, with its strengths in US history and in public health and medicine, was a great fit. 
Login to View & Leave Comments
Login to View & Leave Comments