By Vincent J. Burke, executive editor
A hawk went aloft, stealing everyone's attention. It was a familiar scene for the speaker, a wildlife manager whose back was turned to the soaring bird. You could see the slight smile form on his face as he recognized the failed attempts of the rows of seated listeners to conceal their interest. "What's the bird behind me?" he asked as laughter broke out. It was a solemn day in the middle of one of the most rural parts of upper New York State, and the humor was fresh on the heels of suppressed tears.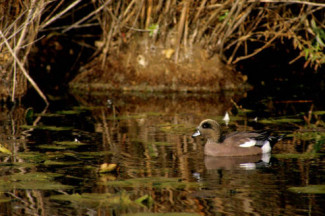 We were gathered under the only structure in sight, a large tent staked on some dry ground adjacent to the marshlands of the Northern Montezuma Wildlife Management Area. This is where Professor Guy Baldassarre used to arrive with a bus full of ornithology students from the SUNY College of Environmental Science and Forestry. Guy was missing, and this ceremony was part of an ongoing effort to remember him. On this day we would dedicate a marsh restoration project that would be named in his memory. "Guy's Marsh" is in the early stages of restoration, but within a few short years this abandoned farm field will fill with water and shelter and feed thousands of resident and migrating waterfowl.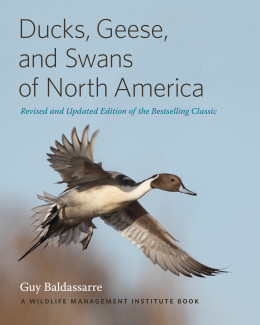 What struck me most on this day can be put into a word: collaboration. This was Guy's specialty, his hallmark: collaborating and getting others to do the same. Under the tent, people from California, Florida, and dozens of other places were assembled. The audience was speckled with representatives of Ducks Unlimited, the U.S. Fish and Wildlife Service, New York's Department of Environmental Conservation, and too many other groups to mention. Friends of Montezuma stood behind a small table that displayed copies of Guy's posthumously published masterpiece, Ducks, Geese, and Swans of North America. They were all here because they had raised funds for the marsh restoration, or had helped Guy as he wrote his book, or had somehow worked with him on behalf of birds and wildlife habitat.
When Guy's wife, Eileen, spoke you could sense a marriage built on collaboration. When speakers told of the way in which large and small donations flowed in to rebuild the marsh, one was struck by the diversity of sources. Guy's book itself was a collaboration that involved the Wildlife Management Institute, photographers, students, and scores of waterfowl groups and experts. After his death, one of these waterfowl experts had to guide Guy's book through copyediting. Sue Sheaffer dedicated herself to those thousands of hours of doing what Guy would have insisted upon: double-checking everything.
Everything—the marsh, the book, the students, the friendships, the bonds—all somehow centered on Guy's infectious enthusiasm for birds. It wasn't just the enjoyment birds bring to us, or satisfying our curiosity about them; it was Guy's recognition that birds need champions in this modern world. Out at Guy's Marsh, looking around at the dedicated heirs of Dr. Baldassarre's legacy, I got the sense the world was going to be a better place for birds because Guy spent decades teaching us, by example, how to collaborate on their behalf.
Editor's note: To read Dr. Mike Schummer's remembrance of Guy Baldassarre—the man, the book, and the marsh, click here.

Executive Editor Vincent J. Burke, PhD, acquires books in science and mathematics for the JHU Press; follow him on Twitter at @VBurke2.
Login to View & Leave Comments
Login to View & Leave Comments