How Hopkins Press #SpeaksUP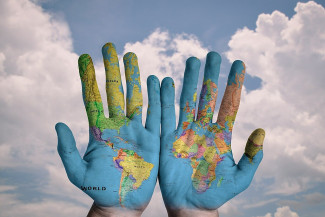 Within Johns Hopkins University Press, we have a very special group, that we like to think helps the world for the better. 
Along with divisions that publish amazing scholarly books and numerous academic journals, there is Project MUSE. If you are not familiar, MUSE is a digital platform and aggregator and an integral part of the scholarly communications ecosystem and platform of choice for respected not-for-profit publishers. If you are familiar, you may know it's approaching its 30-year anniversary. Project MUSE hosts more than 800 journals and nearly 100,000 books from some 400 leading university presses, scholarly societies, and related publishers. Importantly, MUSE is able to help its publishers, and in turn authors, amplify their voices around the world. 
MUSE truly reaches across oceans. Using ISO Country Codes Standard, MUSE has detected usage in some 237 of the 249 officially assigned country units in calendar year 2022.
Moreover, and as part of its mission to promote the broad dissemination of essential humanities and social science scholarship, and in support of equity in access to scholarly resources, Project MUSE and its participating publishers earlier this year, announced a program to provide free access to selected journal titles in many low-income countries.
More than 250 journals from nearly 30 publishers committed to the program and are currently providing free access to individuals in 19 countries, primarily in Africa. The free access program is in collaboration with Google Scholar, which is indexing the free journal content to ensure it is widely discoverable, while MUSE provides the free access to any user connecting via an IP address from the qualifying countries. All available volumes and issues from the participating journal titles may be accessed for free.
"This program allows Project MUSE to provide valuable scholarly journal content to countries that are among the hardest to reach," said Elizabeth Brown, Publisher Relations Manager at Project MUSE. "We thank our publishers for their enthusiastic participation!"
Project MUSE and the participating publishers were delighted to offer this free access to researchers and readers in these frequently underserved communities, as one part of our overall commitment to justice, equity, diversity, and inclusion. You can visit the MUSE web site for a list of the participating journal titles, along with the list of countries with free access. 
Project MUSE also hosts more than 5,000 fully open access books, and several open access journals; these are freely available to everyone, worldwide.
#KeepUP
#ReadUP
#SpeakUP 
Login to View & Leave Comments
Login to View & Leave Comments