The Hopkins Review Takes Home CELJ Phoenix Award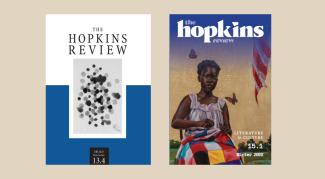 Congratulations to The Hopkins Review, winner of the 2022 Phoenix Award for Significant Editorial and Design Achievement! 
The award was announced at the Modern Language Association's annual convention in San Francisco on Friday, January 6th by the Council of Editors of Learned Journals (CELJ). The Phoenix Award recognizes the most improved journal that has "launched an effort to revitalize or transform" its editorial direction and/or design.  
The CELJ judges noted the following about The Hopkins Review's redesign: 
The Hopkins Review has undertaken a major design overhaul that is visually stunning and inclusive of its locality. The new design opens the journal with an editor's note signed "Love, from Baltimore," grounding its connection to community. The front cover features local artists with gallery space devoted to an explanation about the artwork and the artist. A new companion website complements the journal with a lively design and extra content that enhances the print journal. The design changes have brought this important arts journal into the social stream of twenty-first-century cultural connections. 
The Hopkins Review Editor in Chief Dora Malech worked with Design Director Sevy Perez on the journal's rebranding, which included moving to a full-color, full-bleed cover, updated logographic nameplate, and the creation of an independent editorial website with original content, expanding on and complementing print issues within a print-and-digital ecosystem, making THR accessible to a broader readership. Malech noted in the award submission: 
Building on the journal's long-standing commitment to the creative alongside and beyond the literary and critical, we introduced our Featured Cover Artist Initiative, through which a year's four issue covers feature the work of a single artist with a connection to our home city of Baltimore, visually unifying each annual volume while celebrating the local alongside the national and international. In platforming a yearly visual artist, we have also introduced an interior cover "gallery" space, which features an uncropped version of the cover image accompanied by commentary. The journal's design transformation also enables us to showcase our contributors' work on their own unique terms. 
The journal's final issue of its 15th volume year was published earlier this week, completing the first year's four-issue series of covers featuring art by Baltimore artist Stephen Towns: 
Login to View & Leave Comments
Login to View & Leave Comments