Following Elephant Trails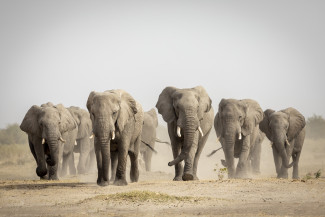 By Nigel Rothfels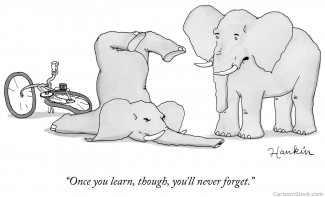 For six years, now, I have had this Charlie Hankin cartoon on my refrigerator, clipped from a New Yorker and sent to me by my sister. Writing a book about elephants, I guess, inevitably leads to receiving a stream of elephant-themed kitsch, stories, and memorabilia. I've kept a tie, an old, cast-iron piggy bank of a circus elephant standing on its hind legs, some bookends, a pad of notepaper made of elephant dung, a little silver elephant that opens to reveal a smaller version inside, a quick painting by an elephant whom I met in Milwaukee, and a few other items. More significantly, I was given a mammoth tooth that has become quite important to me and inherited an ivory-handled cutlery set that leaves me perplexed and troubled. I suppose I kept the Hankin cartoon on the fridge, with its double references to remembering, because it makes me smile and because historians – and possibly elephants – are in the business of memory.
I started the research for my new book Elephant Trails: A History of Animals and Cultures because I wanted to write something about the life of a particular elephant who died in the 1930s in Rome. I soon realized that the book I needed to write would be a much longer history examining the human ideas that led to that elephant's capture in Africa and its life and death in captivity. These kind of ideas, including that elephants, are the most spectacular land animal, that they never forget, are afraid of mice, are wise and just, and that they weep, structure our thoughts about elephants and are embedded in Hankin's cartoon and the many gifts I have received. Elephant Trails follows the lives of individual elephants from the past, but also elephants that live primarily in our imaginations because the challenges of elephant life today stem from both the actual circumstances of their existence and our beliefs about these manifestly incomprehensible beings.
In the third century CE, the Roman author Aelian wrote at the end of his account of elephants, "Were I to pass over a piece of cleverness on the part of an Elephant, someone will say that I failed through ignorance to record it." I have returned to that statement many times over the years, knowing that people will wonder why I didn't write about this or that elephant that they had heard about. In the end, I decided to focus on a few larger topics, including elephant graveyards and museum collections, elephants in medieval and early modern thought, elephants in zoos and circuses, hunting elephants, and elephants and extinction, because all of these have helped constitute our shared ideas of the significance of these animals. While there were certainly many more stories I could have shared, I hope the book will help readers look beyond what they think they know about elephants and open themselves up to an awareness that a large part of the struggles that elephants face has been caused not by who elephants are, but who we think they are.
Nigel Rothfels
is a professor of history and the director of the Office of Undergraduate Research at the University of Wisconsin–Milwaukee. He is the author of Savages and Beasts: The Birth of the Modern Zoo and the editor of Representing Animals. His most recent book is Elephant Trails: A History of Animals and Culture.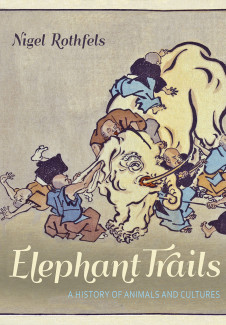 Login to View & Leave Comments
Login to View & Leave Comments