Hopkins Press
Publishing Internship Program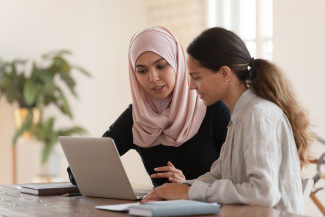 About the Program
Publishing is a rewarding career option for those interested in books and journals who want to work with other creative and dedicated people with diversity of thought and experience. There are roles for all personality types and interests - from creatives to number crunchers to wordsmiths. It is a highly competitive field with a limited number of jobs, but it's an important institution that connects viewpoints and voices to the public. At Hopkins Press, we offer a press-wide publishing internship specifically geared to support diversity, equity, inclusion, and access (DEIA). These are paid opportunities that offer a high degree of flexibility to minimize barriers to participation and access, an elevated level of support through assigned mentors and a chance to establish career networks and opportunities. In our quest to prioritize justice, equity, diversity and inclusion, the 2021–2022 program focused on first-generation and/or limited-income (FLI) applicants and included a group project to produce an intern-curated marketing catalog across various DEIA themes.
Participants will be introduced to the world of academic publishing by working alongside staff from JHUP's Books and Journals divisions, Hopkins Fulfillment Services (HFS), and Project MUSE®. The program touches upon the areas of content acquisitions and production, customer service and fulfillment, finance and sales, marketing and publicity, and rights and technology. A mix of in-person sessions at our offices in Charles Village, Baltimore, MD (adjacent to the JHU Homewood campus), and virtual Teams/Zoom meetings will be offered to accommodate the busy schedules of the interns and our team of mentors. No specific academic major or prior publishing experience is required. We are looking for highly curious, resilient, and resourceful undergraduate or graduate students interested in supporting JHUP's mission of bringing the benefits of discovery to the world.
Interns are paid $15/hour and commit to completing up to 150 total hours of learning, hands-on work, and a project/presentation from September to May. Underrepresented, first-generation and/or limited-income students are encouraged to apply. 

Davida Breier (she/her/hers)
Co-Director, JHUP Marketing & Sales (Books) and Director, HFS

Diem Bloom (she/her/hers)
Director, Publishing Operations (Books)

Julia Lynton-Brown (she/her/hers)
Director, People, Culture, Equity