Press Kit for
Adventures of a Medical Detective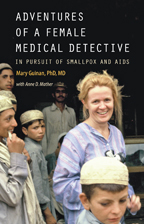 In Pursuite of Small pox and Aids
by Mary Guinan, PhD, MD with Anne Mather
"Bold, informative, and heartfelt . . . [Dr. Guinan's] adventurous works demonstrate curiosity and compassion, and her courageous dedication to scientific integrity and action reflects the best in public health." 
—James W. Curran, Rollins School of Public Health, Emory University
Downloadable Resources
For Access to interior images, contact Kathryn Marguy at the information below. 
Dr. Guinan in the News
Author Bios
Mary Guinan, PhD, MD, was the founding dean of the School of Community Health Sciences at the University of Nevada, Las Vegas, and is now professor emerita. She was the first woman to serve as the chief scientific advisor to the director of the Centers for Disease Control and Prevention. Anne D. Mather was the managing editor of the CDC Newsletter, the MMWR, during the years when smallpox was eradicated and AIDS was discovered.
Press Contact - Kathryn Marguy
Sales Contact - Devon Renwick