Finding the Right Words: A Story of Literature, Grief, and the Brain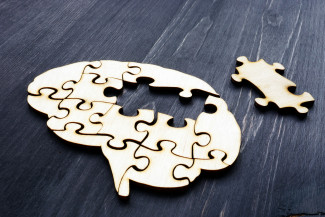 Finding the Right Words: A Story of Literature, Grief, and the Brain
tells the moving story of an English professor studying neurology in order to understand and come to terms with her father's death from Alzheimer's. In this blog post, Professor Cindy Weinstein and Dr. Bruce Miller discuss their new book.
Professor Cindy Weinstein:
I had always conceived of Finding the Right Words as a memoir written by two people. Me, obviously, because it was about my father's early-onset Alzheimer's, and a someone else whose name and location remained uncertain; that is until I met Dr. Bruce Miller, neurologist at the University of California in San Francisco. I was certain that my father's story was best and most helpfully told with a doctor, who could explain the complexities of Alzheimer's disease to me and, by extension, to a general audience. I could describe the devastation of a daughter, and how her love of novels and her abilities as a literary critic both helped and hindered her reckoning with the loss of her father. My account of grief would hopefully be useful to family members – sharing what I did, what I didn't do, what I wish I had done in my mid-twenties when my father was in his late fifties and was diagnosed with Alzheimer's – and it would be made even more useful if the voice of an empathic, learned neurologist shared his deep understanding of brains that stop working. I needed to find an expert on dementia (Alzheimer's is not the only form of dementia, but it impacts the most people), who could talk about the brain with as much expertise as I did in my discussions of literature. I also needed and wanted to learn enough neurology so that our book would embody the power of interdisciplinary thinking. And so I studied neurology for a year with Bruce and the many doctors and nurses at UCSF who participate in the Global Brian Health Institute (GBHI), a magnet for people from all over the world who study dementia from a variety of points of view: gerontologists, neurologists, architects, epidemiologists, photographers, and dancers. Some study biomarkers, those bodily fluids that reflect trouble; some develop programs to help caregivers; others work on how to design dementia-friendly spaces, making emergency rooms less chaotic and nursing homes less like prison. I came to GBHI to study the language of neurology, to learn the words that would enable me to have a conversation with Bruce about my father, most specifically, and about dementia, more broadly. The result of our collaboration is a book that brings together me and Bruce, past and present, humanities and neurology, in a series of chapters that reflect upon a clinical presentation – word finding, spatial disorientation, behavioral anomalies, memory loss – from our different and harmonizing perspectives.
Dr. Bruce Miller:
Despite differences in training and taste (Cindy doesn't like Pynchon, one of my favorite authors), soon after Cindy joined GBHI, she and I fell into a comfortable writing rhythm.  We hoped that this book would be educational for health care providers as they learned about the excruciating pain and bewilderment that Alzheimer's disease brings, while offering insights about the brain to caregivers and to patients living with this condition. As a physician I have always believed that knowledge brings some relief to my patients and their families. Our writing process was simple: Cindy offered a chapter about her father, and I responded by revealing the neurological mechanisms for her father's symptoms. I struggled to use words that were understandable for non-scientists and avoided the jargon that we physicians fall back upon to explain neurological processes.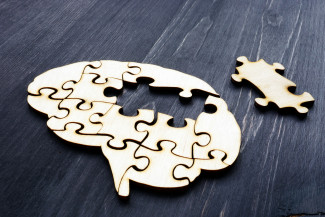 Cindy's literary gifts were invaluable as I balanced clarity and simplicity while trying to capture the complexity of the decline associated with Alzheimer's disease. Some of Jerry Weinstein's early symptoms like his word-finding difficulty were easy to explain and offered me an opportunity to reveal the diverse ways that Alzheimer's disease can begin and the importance of where a disease strikes the brain as the determinant of what symptoms emerge. Similarly, when Cindy asked me to explain diagnosis, I disclosed with pride the remarkable improvements around this process from the time that Jerry was seen in the 1980s. With other chapters, particularly the one on memory, I was stymied when I realized that the nomenclature that we use to explain memory loss was opaque and often incomplete.
Even many decades after Jerry Weinstein's death, Cindy still experienced a complex mixture of sadness, rage, puzzlement, and guilt around her father's illness. Like many physicians, I had always believed that I was somewhat immune to such feelings, but as I began read Cindy's remarkable testament to her father, it opened me up to buried memories about the deaths of people in my own family. We wrote this book during COVID-19, and my mother, a brilliant artist, was isolated in an assisted living institution. While thinking about her body of work, I was delighted to discover that one of her pictures captured aspects of memory for which I lacked the right words. This picture is featured on the back of the book in brilliant color. It distills the way that we summarize our daily experiences into an image.
The book is ready for you to read! I feel enormous gratitude for the opportunity to work with a brilliant literary critic on what we believe is a unique perspective on a disease that has been extensively described. I hope that future writings about Alzheimer's disease will reveal improvements in treatment. They are certain to come, and these advances will create new stories and new hope.
Order Finding the Right Words: A Story of Literature, Grief, and the Brain at the following link: https://jhupbooks.press.jhu.edu/title/finding-right-words
Cindy Weinstein, PhD
, is the Eli and Edythe Broad Professor of English at the California Institute of Technology. She is the author of Time, Tense, and American Literature: When is Now? Bruce L. Miller, MD, is the A.W. and Mary Margaret Clausen Distinguished Professor in Neurology at the University of California, San Francisco, where he is the director of the Memory and Aging Center and the codirector of the Global Brain Health Institute. He is the coeditor of The Behavioral Neurology of Dementia. Together, Weinstein and Miller are the authors of Finding the Right Words: A Story of Literature, Grief, and the Brain.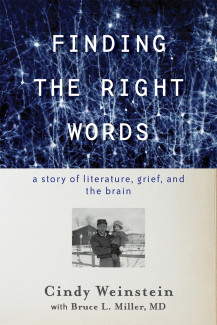 Login to View & Leave Comments
Login to View & Leave Comments