Anchoring Innovation Districts: The Entrepreneurial University and Urban Change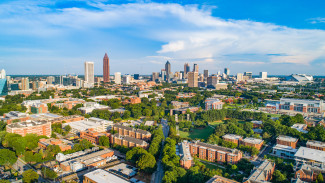 In the spring of 2017, I had an opportunity to learn about Technology Square (Tech Square) in Midtown, Atlanta.   I spent a year as part of a fellowship at Georgia Institute of Technology in the Office of the Provost.  Tech Square was a university initiative that opened in 2003, across the highway from the university campus, on the other side of the Fifth Street bridge.  It was a vibrant environment where university activities and corporate research were intersecting, driving economic development.  As an urban affairs scholar and someone interested in the broader issues facing higher education, I was intrigued by the enterprising venture and its impact and implications for the local community.  Furthermore, this part of Midtown was rapidly changing, with construction sprouting everywhere.
Anchoring Innovation Districts
examines a recent trend in higher education, as universities are actively investing resources in the establishment of innovations districts. Embedded in the urban environment, the creation of these entities is fueled by the formation of structures to support and attract entrepreneurial activity, primarily emanating from the commercialization of technology.
This direction has significant implications for both higher education and the city.  Engaging universities in this manner departs from past practices which viewed university campuses as isolated entities.  As a result, the lines of where the university ends and the community begins are blurred.  At the same time these initiatives are contributing to the continuing rebirth of the urban core and adjacent neighborhoods.  The book embraces an interdisciplinary perspective to expand the scholarship in entrepreneurial science, higher education, technological innovation, and the university as a driver of urban economic development.
Anchoring Innovation Districts
is the first scholarly analysis on the subject and employs a comparative perspective by closely examining six cases.  The first four include research-intensive universities that are located in major metropolitan regions: Kendall Square and MIT in Boston, Tech Square and Georgia Tech in Atlanta, University City and Drexel University in Philadelphia, and PHX Core and Arizona State in Phoenix.  The remaining two are regional comprehensives in medium sized cities that are increasingly playing a critical role in the promotion of similar innovation strategies:  University of West Florida in Pensacola and the University of Tennessee at Chattanooga in Chattanooga.  Additionally, Aggie Square and UC Davis in Sacramento is briefly covered.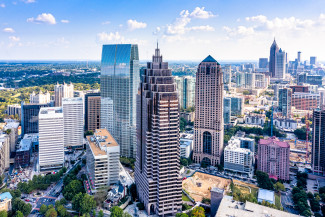 Considerable emphasis is placed on the significant economic contributions of these initiatives as well as on the broader spatial and socioeconomic composition implications.  There are a number of findings that contribute to our understanding of university-anchored innovation districts.  Specifically, in response to the 2008 economic crisis and the criticism that ensued, institutions of higher education are more open to becoming externally focused by pursuing bolder strategic plans that incorporate unique mindsets and operate in entrepreneurial manner.  These pursuits are closely linked to business interests which range from bringing to these areas highly established Fortune 500 companies to attracting entrepreneurs trying to breathe life into startups.  Innovation districts also empower creativity and entrepreneurship, fueling student and faculty engagement.  University leadership matters to ensure the successful launch, maintenance, and growth of innovation districts.  Finally, government can also play a critical role as is the integration of the local community in these planning initiatives.
Fifty years ago, many urban universities considered leaving the city.  Today, having a city presence is a major asset, and leaders of colleges and universities not only celebrate their fortunes but also work feverishly to determine how to take full advantage of their unique locations.  The suburban research park venues of the 1960s and 1970s have given way to a new set of dynamics fueled by the energy and talent of young urban entrepreneurs working in a fast-paced digital economy.  Post-war urban decline provided access to low-cost real estate which, alongside institutional leadership and successful partnerships, powered robust ecosystems of technological innovation. And while the COVID-19 pandemic has had an impact on work relations and will bring adjustments, the vital importance of open innovation as the underpinning for the development of innovation districts—an approach that relies on interactions, relationships, close contacts, immediacy, and networking—is expected to continue the growth of these locales. 
Beyond the entrepreneurial orientation of universities, the reader will also gain insights into the urban implications of these projects.  Institutions of higher education must address the fact that these ecosystems have the capacity to shape communities with high-income residents that push both housing costs and property taxes out of reach.  This in turn makes it difficult for low- and middle-income families who have been unable to secure desirable housing either to buy or rent.  Furthermore, the speed of development to attract these employees also impinges upon any efforts aimed at affordable housing or strengthening the local social capital.  The forces of change are so powerful that, in the end, social inequality remains one of the major challenges facing innovation clusters when examining their impact on the urban environment.
Order
Anchoring Innovation Districts: The Entrepreneurial University and Urban Change
at the following link:
https://jhupbooks.press.jhu.edu/title/anchoring-innovation-districts
Costas Spirou
is the provost and vice president for academic affairs at Georgia College & State University, where he is a professor of sociology and public administration. Most recently he is the coauthor of Building the City of Spectacle: Mayor Richard M. Daley and the Remaking of Chicago and the author of Urban Tourism and Urban Change: Cities in a Global Economy and
Anchoring Innovation Districts: The Entrepreneurial University and Urban Change
.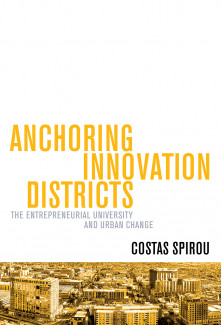 Login to View & Leave Comments
Login to View & Leave Comments