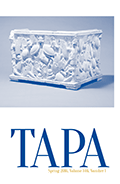 TAPA is the official journal of the Society for Classical Studies.
Volume: 147 (2017)
Frequency: Semiannually
Print ISSN: 0360-5949
Online ISSN: 1533-0699
TAPA
TAPA is the official research publication of the Society for Classical Studies (SCS). The SCS is a learned society of scholars and teachers of the culture and history of the Greek and Roman worlds of antiquity. As the flagship publication of one of the largest professional associations in the field of classical studies, TAPA reflects the wide range of research conducted by classicists. Consequently, TAPA includes contributions across the broad spectrum of contemporary methodology, from the most traditional to the most innovative.
---