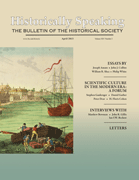 Historically Speaking is the Bulletin of The Historical Society.
Volume: 14 (2013)
Frequency: 5 issues
Print ISSN: 1941-4188
Online ISSN: 1944-6438
Historically Speaking
With its lively essays, interviews, and forums, Historically Speaking offers readers all aspects of history, historiography, and current affairs in historical perspective. Some features include assessments of current historical frameworks, state-of-the-field essays, reconsiderations of classic historical works, insights on historical books that never received their due, the oeuvre of important historians, and issues in historical theory.
---